I just did a crapload of promoting, so hopefully we get some new applicants. someone left without notifying us (what a bitchface), so the next two (2) applicants are accepted or rejected just by me. I will post when it's time for you guys to start voting. thanks for being patient, gals. it's appreciated.

♥

ps. I made a promo banner. you can use the one
_pavedparadise_ made (thank you for that <3), or this one: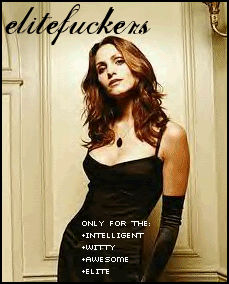 do you think you're good enough?
elitefuckers




just take out the asterisks.

<*p align="center">

<*img src="http://img.photobucket.com/albums/v297/radandi/efbanner1.gif">
do you think you're good enough? <*lj user="elitefuckers">